ART
/
NEWS
/
CATALOG
/
VIDEOS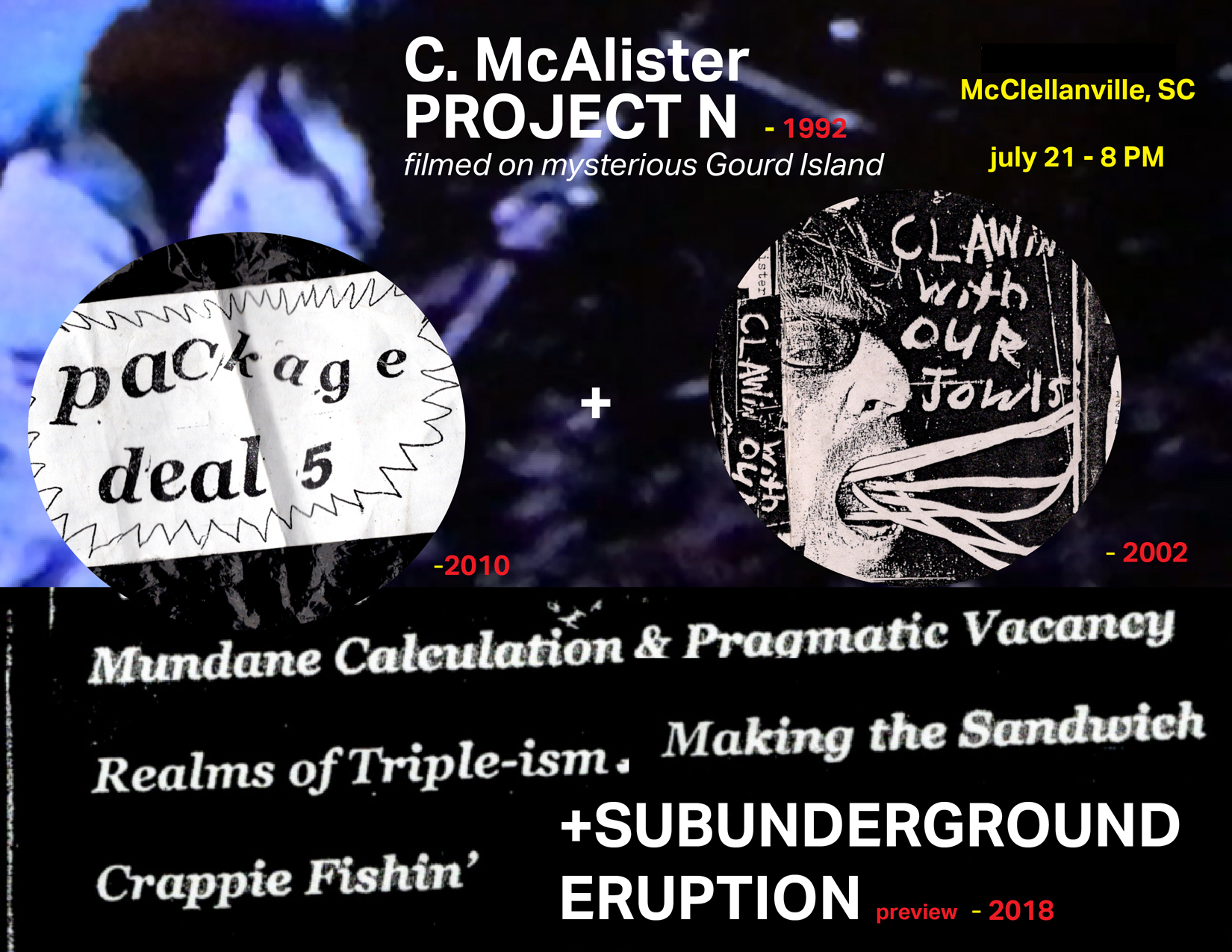 Invitation to VHS screening of Charlie McAlister videos by Will Milner, July 21, 2018
Many of Charlie's video came out on VHS and no other format. We are currently digitizing many of his video works before they completely crumble to dust after hundreds of plays on the VCR. Get in touch if you have any pristine copies you may have purchased. Here are a few later ones that made it onto the internet...
Promo video 1 for "Subunderground Eruption"
"Subunderground Eruption" is an unreleased documentary on home-taping culture featuring Ashley Holt, Furniture Huschle, Caleb Fraid, Cash Nexus, Church of Gravitron, Simon Joyner & friends, Kim Darling, Bob Log III, I am the Lake of Fire, Spirit Duplicator, Nathan Ma, Wess Hess, Hossflesh, David Nance, William Wesley & the Tiny Sockets, The Debts, and others...filmed in South Carolina, Los Angeles, Omaha, and Tucson by Charlie McAlister & Celie Dailey. Partial soundtrack released as Unread's "Poisoned Wine" tape...
https://unreadrecords.bandcamp.com/album/unread-150
Promo video 2 for "Subunderground Eruption," featuring the song "YEAH HIGH" by Caleb Fraid
Goody Goody Gardener, music video
~~~~~~~~~~~~~~~~~&&&~~~~~~~~~~~~~~~~~~~
ART
/
NEWS
/
CATALOG
/
VIDEOS
No content on this site can be used, downloaded, or distributed without prior consent. All art copyright Charlie McAlister.